From 1945 until now Italian architects have thought and designed education. A proposal for the 2016 Architecture Biennale in Venice.
FIG Projects was invited by the Italian Ministry of Cultural Heritage and Activities and Tourism to submit an exhibition proposal for the Padiglione Italia at the 15th International Architecture Exhibition 2016, La Biennale di Venezia.
We focused on the theme of education, presenting a series of case studies, between 1951 and now, where architects have actively participated in the definition of new pedagogical formats, through theory and design. The title is taken from Article 34 of the Italian Constitution.
Download the full proposal, in Italian, here.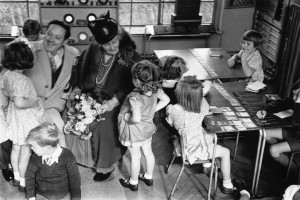 In the picture Maria and Mario Montessori.
Together with us, the working group was composed by
Research
Maria Chiara Pastore, Benedetta Cremaschi, Laura Pierantoni.
Exhibition design
Matilde Cassani and Francesco Librizzi, exhibition design
www.matildecassani.com
www.francescolibrizzi.com
Graphic design
Marco Ferrari and Elisa Pasqual / Studio Folder,
www.studiofolder.it
Photography
Daniele Iodice, www.danieleiodice.it
Filippo Romano, filipporomano.jimdo.com
Giovanna Silva, www.giovannasilva.com
Video
Alterazioni Video
www.alterazionivideo.com
Original footage research and video editing
Saverio Pesapane
www.saveriopesapane.com
Digital platform and social media
Marco Lampugnani
https://medium.com/@coonsfromspace
Publication
Humboldt Books
www.humboldtbooks.com