Commissioned by the international architecture and design magazine Domus, the maps reveal some of the social, political and economical phenomena shaping contemporary global territories.
The SARS Atlas (Domus n. 867, February 2004) traces the departure and spreading of the SARS epidemic. Strongly tied to a series of specific spaces the mapping revealed the link between space, globalization and disease. (For the complete article and research see our post here.)

Cocaine Urbanism (Domus n. 884, September 2005) follows the routes from coca leaves to street-selling cocaine and of the chemical components employed in the production of the drug.
Download the map here.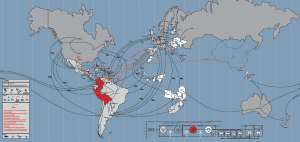 Design Schools Atlas (Domus n. 889, February 2006) charts the schools of design worldwide. Each school is localized geographically and detailed with regards to the specific courses it offered. The map sought to highlight design's growth and ubiquity.
Download the map here.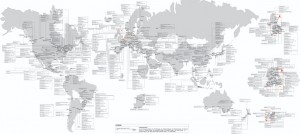 Outsourcing studios and IT Backbone (Domus n. 900, February, 2007) explores the globalization of design and production within the architecture field. Texts by Joseph Grima and Gianluigi Ricuperati.
Download the map here.