A proposal for Extra City in Antwerp, inspired by Peter Weiss.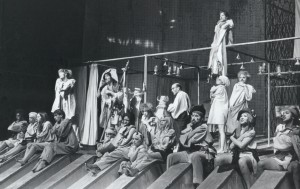 FIG Projects participated to an open call for the curatorship of a three year program launched by Extra City in Antwerp, elaborating concepts already in the making since some times (see here).
"Work / Labour – The Aesthetics of Resistance" is conceived as a three years' collaboration with Extra City around the conditions of "contemporary work". The title is an explicit reference to the political novel "The Aesthetics of Resistance" by Peter Weiss that opens with a long dialogue between the main protagonists, three young men from Berlin, about the classic frieze of the Pergamon Altar, during the early years of the Nazi regime. The dialogue revolves around the fact that the figure of Heracles appears to be absent from the frieze, depicting the battle between giants and gods, a classical myth where Heracles was one of the protagonists. For the left-leaning proletarians, Heracles comes to represent the symbol of the oppressed, whom is almost never a subject of high art. In his novel, Weiss recognized a recurrent social feature of the period, that of the working classes visiting museums and cultural institutions as a means to achieve self-education and therefore to be culturally equipped for the future revolution to come."

Download the form submitted to Extra City, here.